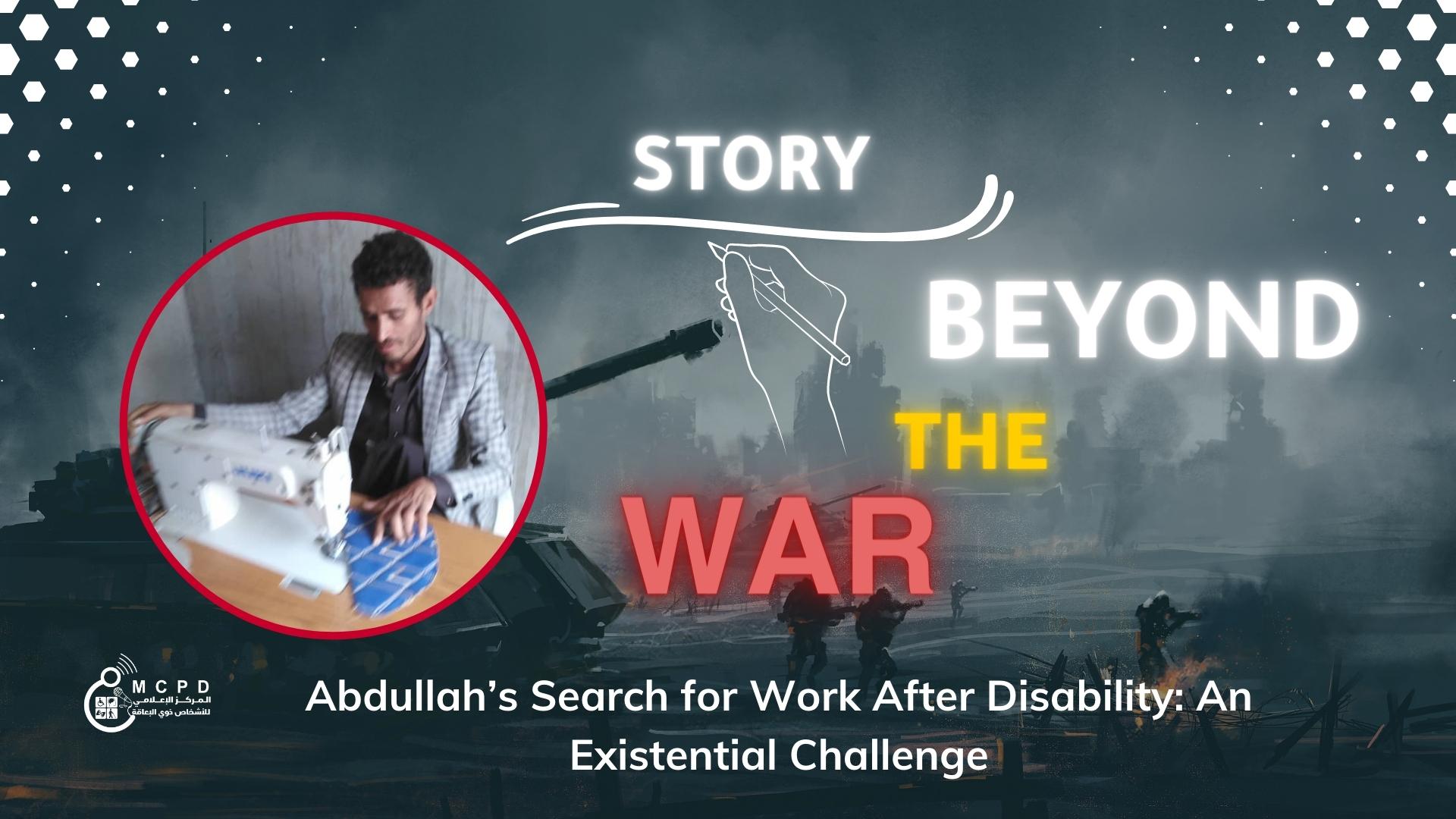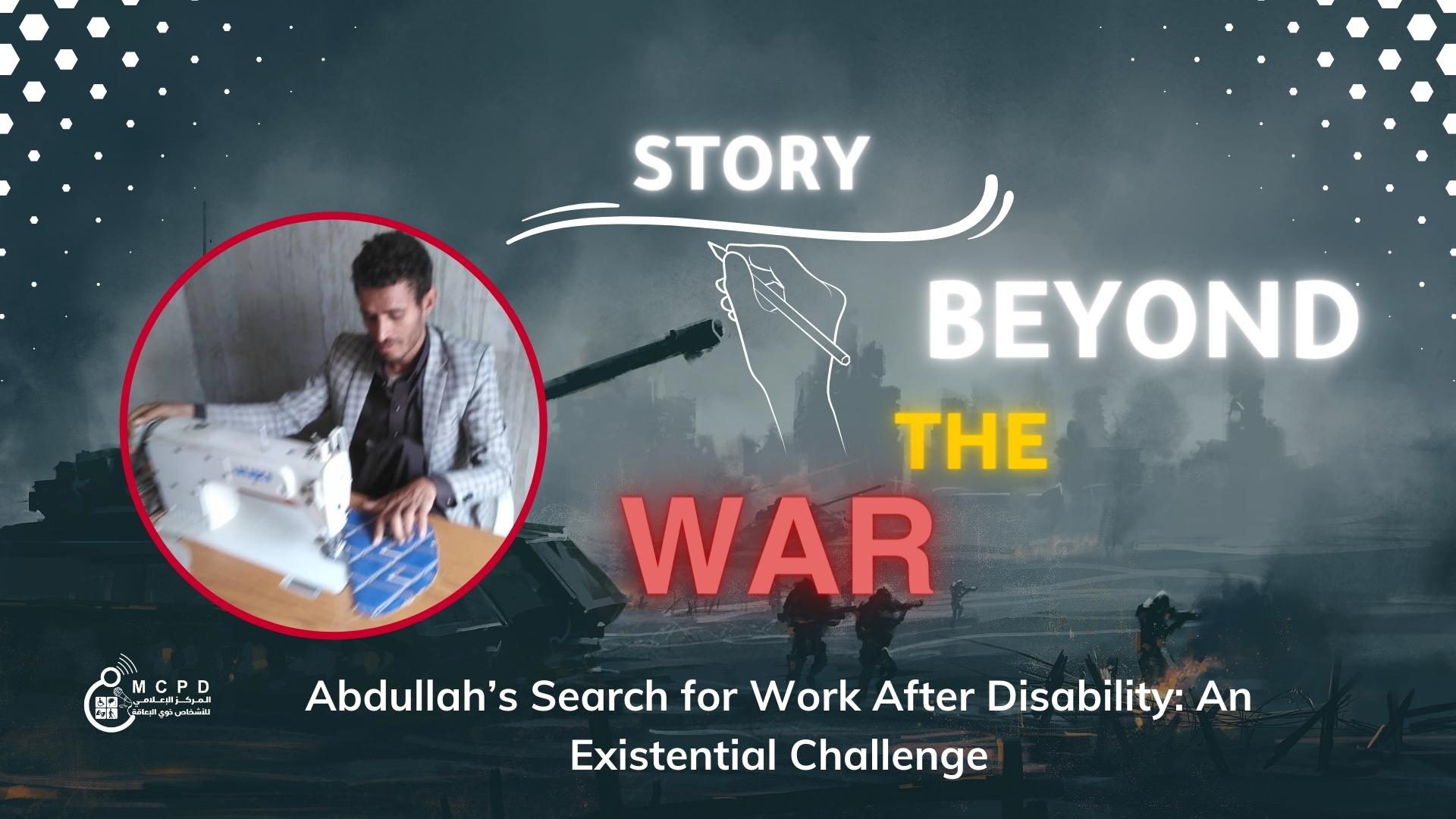 Written By: Ibrahim Muhammad Al-Munifi
Translated By: Yasser Muhammed
At noon on February 19, 2018, Abdullah Hussein, 29 years old, from Hajjah governorate, north of Yemen, about 223 km from Sana'a, was walking around with one of his friends, as on any normal day, not realizing, that there was a step he's about to take that would change his life and the lives of his family comprising a wife and four children
Abdullah stepped on a landmine that immediately severed his right leg from his body and caused him other various injuries. While his friend, who was several meters away, was lucky enough to escape unharmed
Today, four years later, Abdullah speaks to the Media Center for Persons with Disabilities (MCPD) about his experience
"I did not expect that area to be a minefield, when the mine exploded, I did not lose consciousness and I shouted at my friend not to come closer, to remain in his place for fear of another mine exploding," said Abdullah
After the mine explosion almost took his life, Abdullah realized that he had to start fighting for it.
I crawled on the ground for about 30 meters until I reached him, he took my phone from my pocket and" called my brother," said Abdullah
"Some of my muscles, especially those which are in the partially amputated leg, started to atrophy and almost led to complications, this prompted me to go to the Prosthetics and Physiotherapy Center, as ordered by the competent physicians"
Success after the crisis
It is not easy for a young man who is accustomed to performing various activities and to moving around to adapt to a sudden sedentary life style, also, that was not even an option. Abdullah did not have the luxury of suspending his life and surrendering to his disability
The issue of making a living, was still a big challenge for Abdullah. He is the only breadwinner in his family, and even though before his disability he worked in many jobs for a daily wage, none of those jobs were still an option after the accident
In the middle of last year, Abdullah was contacted by a staff member in Channels of Hope Association, a charity association concerned with the care and development of the Persons with Special Needs (PWSNs) in Hajjah governorate
Abdullah was offered a fully-funded training opportunity in sewing and embroidery, which he joined and benefited greatly from
"I was happy with this opportunity, that I would get a daily sustenance for my little children, as I used to do, without needing anyone." Said Abdullah.
Abdullah works in his own shop located in the city of Hajjah from Saturday to Thursday and does not return to his family, who live in another district far from his shop until Friday
However, despite Abdullah's love for what he does and his attempts to modernize his shop by purchasing new fabrics and teaching himself how to create modern fashion designs, he is faced with the issue of the lack of turnout and the weak purchasing power in the environment around him
This prompted Abdullah to learn and master the skill of upholstering car and motorcycle seats, in addition to his original work.
Abdullah mentioned that the city's municipality is demanding that he changes his shop permits to fit his new additional activity, which he is planning to do when it is time to renew his shop permit
Preserving Dignity is above Everything Else
Abdullah calls on public, private, and humanitarian organizations to pay more attention to the issue of the victims of the conflict in Yemen, especially the PWSNs, as they are in dire need for help to build their resilience and to adapt to their new reality
Abdullah believes that once a person becomes a person with special needs, he should be treated as such, without considering anything else, including his background, whether they were military personnel or civilians, without discrimination
And when we asked Abdullah if he had any message to fellow victims of war who became PWSNs: "Your dignity is above all and your right to get support from any authority or body is a guaranteed right. Despite the circumstances, we can make ourselves and our families self-sufficient, so do not despair"
This story was written with support from IJNet Arabic's Mentoring Center for Media Startups