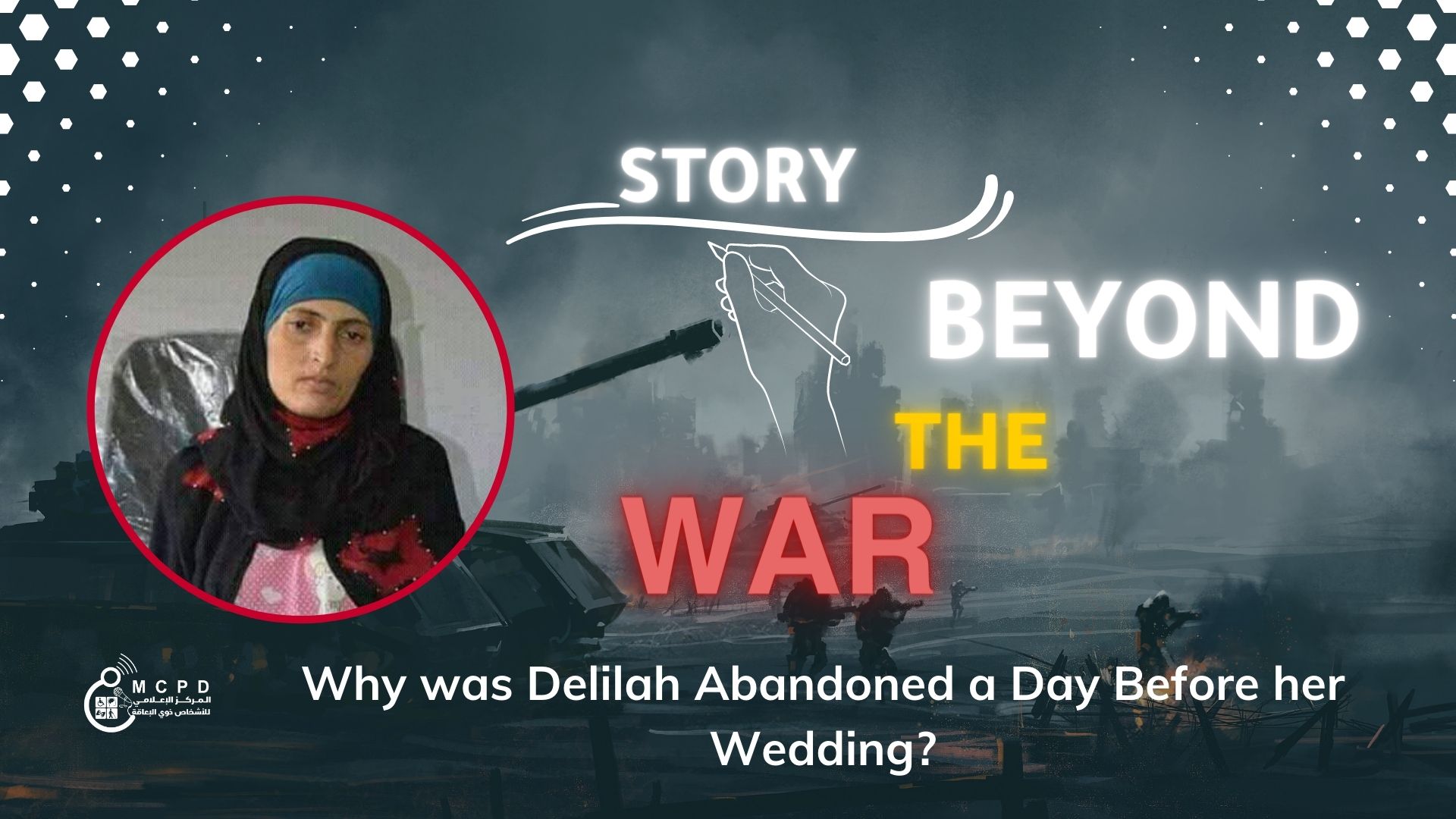 Renda is a woman in her early 30s, who works in a nearby school and her children are used to accompanying her every morning
Renda is accustomed to passing by a shack that sells children toys, clothing, and some candy. The shop is located across from the local children's hospital, in a neighborhood known to the locals of Ta'iz governorate, west of Yemen as "the Fourth Point"
The woman who works in the shack caught Renda's attention. She sees this woman every morning and late in the day when she returns from her work, resting her back to the shack's wall facing the wind and the sun
One day Renda decided to visit the shack, buy some toys and candy for her children and get to know the woman in the shack
When Renda got closer to the woman, she saw a face burdened with concerns, and felt that the woman in front of her had had a tragic experience
Renda tried to comfort the woman and asked about her name and age. "I'm Delilah, I'm about thirty years old." Replied Delilah
Renda smiled saying Delilah "You are still young, and by the way, you are very beautiful, and soon, God willing, I will see you as a bride"
Here, Delilah was physically shaken and her facial expressions changed. "No, I do not want to be a bride again, what happened is enough, enough, enough, I am tired"
For a moment Renda was frozen with surprise, while Delilah realized that she may have overreacted, so she buried her face in her hands and started weeping bitterly
Renda attempted to calm Delilah by patting her on the back, and hugging her warmly. Then, Renda apologized to Delilah saying that she did not mean to upset her feelings.
After Delilah calmed down, she grabbed Renda's hand and looked into her eyes with a look of shy apology, then looked at the two children with a long and careful look and said:
"God, I wished so much to have children, but my husband left me on my wedding day for no fault of mine, he even divorced me through the court, and he married another woman after he retrieved my dowry to give it to her"
Renda couldn't believe what she heard "He divorced you because of no fault of yours? And got the dowery back? And through the court too?, what is this! And by what law! And why!"
Dalila took a long breath, let out a heavy sigh from the depths of her chest and said: "The war, because of war, Renda."
Suddenly, Dalila saw her bus coming in the main road, she stopped talking and asked to be excused. Then she rushed to close down her shack and carry some of her merchandise on her back to catch the bus
Renda went back home with her two children and kept remembering Delilah's story.
The story begins in the village of Al-Shaqab, in Saber Al Mawadim district, southeast of Taiz governorate, in the year 2018
Back then, Dalila was 25 years old and was living comfortably with her parents. In addition to the income generated by her families' agricultural lands, she had another income from selling women accessories
Around mid-2018, Al-Shaqab village witnessed fierce battles and was a contact area between several warring parties
The village residents found themselves trapped amid the gunfire, airstrikes, and mortar shelling. The battles continued for days, and no one was able to get or out of the area
The villagers decided to move on and return to their normal lives including to get married and hold wedding parties
Delilah's wedding day was chosen carefully by her future husband, the seventh day of the seventh month of that year, 7/7/2018
As is customary in Yemen, celebrations began in the bride's home even before the wedding date. Also before the wedding date, something happened that would change Delilah's life forever
Delilah went out to fetch water from around her home, while walking through a narrow ally that surrounds her home, she stepped on a landmine which exploded and completely severed both of her feet immediately
Two of Delilah's cousins were inside the house, they heard her screams and rushed outside only to have another mine, a few meters from where she lay, explode taking, shattering their feet and causing them other severe injuries
While Delilah was fighting for her life in the hospital, her husband was fighting to get back the dowry he paid her family.
Delilah's family received a summons sent by Delilah's husband via the court, demanding the annulment of the marriage and the return of the dowry, which happened
When it rains, it pours. Dalilah's family house, and the houses of other civilians in the area, who had nothing to do with the war were struck, and all of them were displaced from their village and farms to displacement camps
A grave tragedy
"We paid a heavy price for this war, so stop it so that others do not pay what we paid in terms of our lives, our health, our stability, and our future. Stop it, because you do not know what caused the loss of the present and the destruction of the future," said Delilah with deep sorrow
When the MCPD asked Delilah about her wishes for the future, Delilah said: "I hope not to get any other disabilities in order to earn a living and support my family, which has lost everything"
Delilah faces many difficulties in her daily life including when trying to do something as simple as get on a public bus. Some bus drivers do not stop for Delilah to allow her to board the bus due to her disability
"I wish to have a car and use it to move around and not have to go through the trouble of using public transportation," added Delilah
She confirmed that she had not received any assistance so far and expressed her complaint about the organizations' neglect of people with disabilities, especially civilians
Delilah never received any kind of assistance from the Fund for the Care of Persons with Disability or from any other humanitarian organization
Delilah's body may have been damaged, but her resolve is unshaken
"I wish to expand my business and move it into a store because I am exhausted from sitting in the street and facing the sun and the wind
The MCPD calls upon the Fund for the Care of Persons with Disability the humanitarian organizations to uphold their moral and professional responsibilities towards the persons with disabilities in general, and civilians among them in particular, as they are largely overlooked
Note: To learn more, you can listen to this story told by the victim herself in our podcast titled: Beyond the War